Acroscape: Business opportunities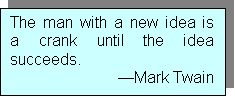 Acroscape develops innovative ideas with technological, economical and social significance. Therefore, there are some great business opportunities for investors, entrepreneurs, and existing companies.
Our innovative ideas can be great new business opportunities.
If you are a company who wants to develop new products and services based on a technology invented at Acroscape, we can assist you to effectively implement the technology into a business success. Studies have shown that a company with an emphasis on the product-oriented R&D and an open mind towards outside technologies will get the best return on investment for its R&D dollars.
If you are an investor or entrepreneur who wants to launch a startup, we will work with you in technology strategy, and help you implement the technology in an efficient and profitable way.
In addition, a fundamental technology often brings significant changes in other areas of business. We can help companies identify and take advantage of the opportunites years in advance.